Listen to this episode on your phone!
Dan Salmanovich is founder and director of The Arcade Hotel. He was born and raised in Montreal, Canada and has spent most of his life in the service industry. His family got into hotels in Amsterdam and he was looking for the next best thing, where he started working in almost everything within hotels. He also did a summer school program at the Hague. Some years ago he had a hotel in Berlin and was in the process of selling it to move back to Amsterdam and it was where he decided to create The Arcade Hotel, which we'll be talking about during this episode.
Dan deals with more of the marketing, branding, partnership, and sponsorship side and doesn't handle the day to day anymore. He does still deal with the purchasing of retro games and comics for the hotel but not necessarily the day to day running of the hotel because he is focusing on expansion. Dan's idea is to take this model to 40 cities in 10 years and that is his dream. On a day to day basis, a lot of his time is spent in front of his laptop, looking for investors, sending out emails. Dan's sponsors for the hotel including Nvidia, Sennheiser, Yamaha, noblechairs and E.A. He really enjoys finding other companies who want to work with him and figuring out how they can work together.
Dan and Rob!
Dan's idea for the hotel came from a time when he was moving back to Amsterdam from Berlin and they were planning on expanding what was then the current hotel with 9 new rooms. He wanted to try something different with the new rooms. Then one night as Dan was playing video games, he had a light bulb moment. He thought "why don't I pud video games and comic books in there? Why don't I make it? Why don't I just take my childhood and vomit it on the hotel?" And that is essentially what he did. He still had action figures from when he was a kid, a full comic book collection and some gaming stuff. When he came back to Amsterdam, he started working with a PR firm, announcing they were going to be opening a video game hotel and from there it really blew up and took off. When Dan was initially researching the idea, he found that there was only one hotel in London that had one room with 4 TV's with some consoles and that was the closest thing to a video game hotel. This was a great feeling for him.
Each room includes a retro console and Nvidia shield pre-loaded with plenty of games to play. In the reception they have their own library of games where every guest can come down and take two games at a time, free of charge.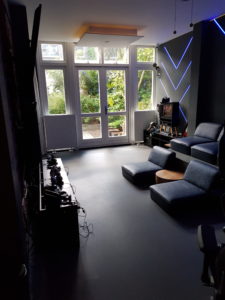 The Game Room!
The Shelf of Games!
His range of retro consoles ranges from the original Atari from 1977 until the original Xbox in 2001, some guests like to request a particular console and they try to accommodate as much as possible. In the retro corner in the lobby, there are 4 old CRT TV's with a bunch of different consoles, they have tabletop gaming which has 450 games. They also have a comic book library where you can come down and take up your room, there is also a game room with top of the range computers, Xbox, PlayStation, everything that you won't find in your room. They also have a 24-hour bar that serves food as well as cocktails, including Dan's personal favorite: the Bloody Caesar. The thing Dan is most proud of is his staff, they are some of the most helpful people in Amsterdam, very knowledgeable and know about games as well.
Dan describes his hotel as "for geeks by geeks" and gaming is the at the forefront of this. In his opinion gaming is a huge facilitator of social interaction and he wants people to come here and leave with new Facebook friends or Instagram friends or have new emails and meet new people from all over the world.
Every month the hotel hosts an event where they have about 32 people coming on Saturdays to play tournaments or listen to talks where they bring people from the industry discussing a range of subjects (even gamification).
Dan wants to be a driving force in the neighborhood/community for promoting gaming and wants to be the center for information and promotion of the video game industry.
In the past, Dan has had the issue that some staff would rather just play games at night shifts and skip some parts of their job. So, in the beginning, some things weren't getting done. Now there is a nice balance, they are allowed to game when it is quiet, as long as everything is done as they need to be aware of what's going on. Dan does understand how tempting it is though as most of the staff or gamers. The staff of the hotel is more than welcome to come and play as much as they want outside of working hours, and it is encouraged as Dan likes to promote that social interaction.
Dan's message behind everything is "be excellent to each other". He encourages booking directly for the best prices and offers for the hotel and if you're ever stopping in the hotel would love to have a chat and perhaps a drink with you.
Find the Arcade Hotel on Facebook, Instagram @TheArcadeHotel and the website is www.thearcadehotel.nl.
The VR Set!
There are many ways to get in touch with Professor Game:
Subscribe to Professor Game E-mail Newsletter
Looking forward to reading or hearing from you,
Rob