This year I had again the chance to give a talk at Online Educa Berlin (OEB), probably the major conference about online education in Europe. The experience of this conference, just like last year, is completely amazing. There were well over two thousand attendees and something around a hundred speakers. There were about ten talks going on simultaneously at any given time, so I was quite happy to see that our room was packed full by the time I had the opportunity to talk about engagement and gamification for the MOOCs developed at IE Business School. I was even happier when I realized no one had left the room during or after the talk (hey, getting bored or not interested during a talk means you have other nine options at least!).
However I'm not going to get into the details of my talk, if you want some general information on the conference you can find it at www.online-educa.com, and for some info on the session were I was at you can find it here. But I want to talk about my experience as an attendee interested in learning and gamification.
Unlike last year were we did have a couple of sessions dedicated to gamfication and game-based learning, this year you would find gamification speakers and topics within sessions that were not dedicated to gamification, or on demos like Sylvester Arnab's Disruptive Media Learning Lab from Coventry University. You could find An Coppens from Gamification Nation speaking about gamification within the context of the future of education, Alessia Messuti talking about a Game4Dev MOOC, Stefano Menon going about Play4Guidance and others. Having quite a few speakers, and especially attendees interested in gamification on learning, was very inspiring and actually also insightful on what is the industry of learning expecting nowadays.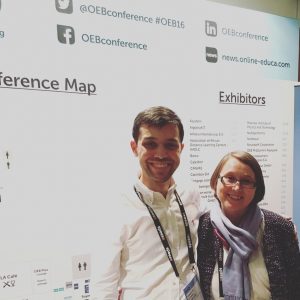 Attending to OEB this year was a great chance for me to get to network, and really have deep conversations about learning, education, and gamification of course. If you don't regularly attend to conferences, speaking events, or in general places where you have the chance to hear from experts or at least others with first hand experience in your area interest, I encourage you to do so, even though I know it requires an investment, more often than not when these events are well organized and have good speakers and attendees, the opportunities gained are greater than the efforts required.
What events did you go to in 2016? What did you get from them? Tell us your experience in the comments section!